Portland Gold Buyers
Sell your no-longer needed gold jewelry
Are you in need of some quick cash? It may be a great time to sell your unworn gold jewelry.
Many of us have gold jewelry that we never wear. Perhaps your style has changed or you have inherited some pieces that just don't suit your tastes. This is the gold jewelry that we have collected over the years. It just sits in the jewelry box; we keep it, but don't wear it. Many of our customers are amazed at the value of their unworn jewelry.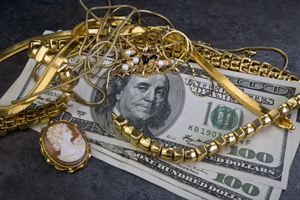 What We Buy
We buy new, used, broken, tangled, or antique gold necklaces, earrings, bracelets, jewelry sets, promise rings, class rings, etc., in any karat. We will evaluate and measure the items you are interested in selling and offer you an immediate price. You may be surprised at what your gold jewelry is worth. Come in today for a no pressure, free appraisal.
When is the Best Time to Sell Gold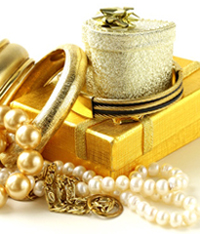 Gold prices are at a historical high and there really is no better time than now to sell your gold jewelry. Free up some extra cash and liquidate those pieces you no longer wear. These days many of us want to simplify our lives. Chances are we don't dress up as often and just don't wear that much jewelry anymore. Maybe you have retired and are downsizing your possessions. Let us evaluate your gold jewelry, at no cost to you and no pressure to sell. Tigard Pawn 4 More makes selling your unused gold jewelry simple. No hassle. Our friendly, professional staff is here to help you today. We offer some of the best gold prices in Portland.
Tigard Pawn 4 More makes selling your extra gold jewelry stress-free. We will walk you through the process. It's easy, we promise. Gold jewelry is made of different purities, known as karat weight. 10 karat is 41.7% pure gold, 14 k is 58.3% pure, 18 k is 75% pure and 24k is pure gold. All of your gold jewelry has value. We will evaluate your items and explain just how gold jewelry is valued. We take the time to teach you about gold jewelry and the process of selling your gold. Our Portland gold buyers love to teach, they love what they do. You will leave our shop more knowledgeable about gold. We encourage you to do your homework and be informed. We want you to shop around. You deserve the best price you can get for your gold jewelry.
Satisfied customers are what keep us in business. We want you to get top dollar for your unused gold and be secure in knowing that you have received an excellent price for your gold. Tigard Pawn 4 More is a family owned neighborhood business. We want to be the number one place in Portland that you think of when it's time to sell your extra gold jewelry.
Stop in and receive a no-obligation, free quote!
ALL ITEMS GO THROUGH A POLICE BACKGROUND CHECK. WE DO NOT TAKE STOLEN MERCHANDISE.