Tigard's Friendliest Pawn Shop
Over 100 5-Star Google Reviews!
Need money? We can help.
Life happens. Sometimes you need money for unexpected emergencies or to pay bills. At Tigard Pawn 4 More, we're here to help you get through tough times. Our experienced pawnbrokers offer fair market rates for your items.
Get money in as little as 10 minutes with a collateral loan or by selling your items. Loan rates and fees are state regulated. Stop by our store today to see how we can help you.
If you've never pawned before, it may seem like a long and difficult process. We make it quick and easy! Learn how pawning works at our store and view a list of things we're typically interested in buying.
Tigard Pawn 4 More is one of the most well-known and most-trusted Portland pawn shops. We have over 100 5-star reviews on Google. Many wonderful and loyal customers visit our shop on a weekly basis.
We'd love to meet you.
Collateral Loans
Your confidential loan is based on the value of your collateral. If your item has value, we might be interested.
Sell Things
Cleaning out your garage? Tidying up grandma's house? Selling to us can be a quick and easy alternative to a garage or estate sale.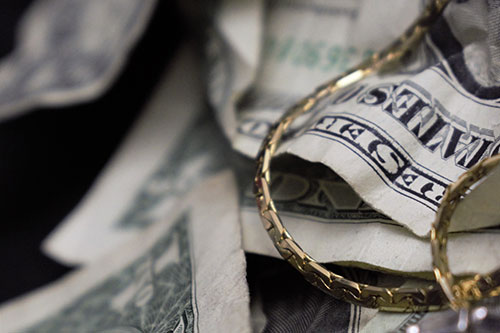 Sell Gold Coins & Jewelry
The easiest way to sell your gold in Portland!
Have gold coins, gold bullion, or gold jewelry you never wear? Then it's a great time to sell. We buy gold at great prices based on current market rates. Stop by Tigard Pawn 4 More today and see what you can get for your gold.
Sell Gold
Buying a used gun is a great way to save money and add a new gun to your collection. Purchasing a used gun at Tigard Pawn 4 More can be a great investment, too. Well-cared for guns often last for generations and may grow in value over the years.
We update our selection of used guns every day. Check online to see what we have in stock or drop by our store. And if you don't see what you're looking for, let us know. We'll keep our eyes open for the gun you want.
Shop Firearms in Store or Order Online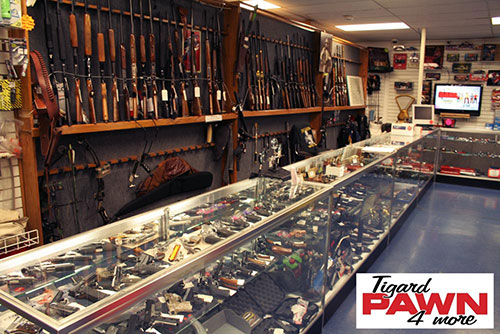 Purchasing a new gun from an out-of-state seller? We offer FFL Transfers for $25, including your background check and Oregon State Police fee.
Customer Robert's review of his FFL transfer experience at Tigard Pawn 4 More:
"I did my first FFL firearm transfer here. They made the whole process quick and easy. And for only $25! Most places in the area charge way more. When I went to pick it up, they gave me a great deal on a case and two magazines. Would definitely go there again, and will recommend to anyone looking for an FFL dealer, as well as anything else in the wide array of stuff they have."
Customers Love Our Pawn Shop
Rated 5 Stars by 100+ People on Google
We take pride in providing our customers with a great experience. Here's what some of them have to say:
This is a very clean, friendly place with great deals. Owners are super great people. Stop in and look around, you will probably find something you can't live without. From firearms to dvd's to jewelry and everything in between, every day is a new adventure on what they have to offer. If you need a loan, you can't beat the pricing. Easy to find in Tigard, go visit them today!!!
These people are the best. I have bought many things from the shop. Have gotten a few loans with them. Actually learned everyone's name. Very honest nice people. They go out of their way to help you.
Nowadays everyone seem to be living paycheck to paycheck. It's nice to know that one of the friendliest pawn shops around can help out for time to time. I know it's been a lifesaver for me. I totally recommend for friendly and often fun service.
Shop Great Deals in Store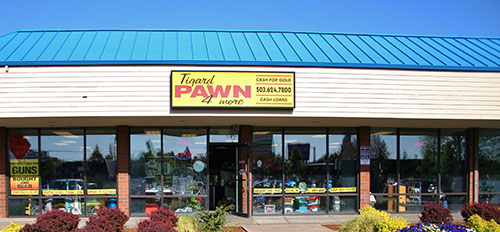 Tigard Pawn 4 More
11940 SW Pacific Hwy, Suite A, Tigard, OR 97223
Open: Mon – Fri 10:00am – 6:30pm | Sat – 10:00am – 5:00pm
Sun – Closed
(503) 624-7800 | This email address is being protected from spambots. You need JavaScript enabled to view it.
Browse our ever-changing selection of guns, gold, tools, jewelry, diamonds, electronics, musical instruments, specialty automotive collectible memorabilia, and more. We have great pre-owned stuff offered at good prices. If you need a collateral loan, we're here to help.
Visit the Portland-area's best pawn shop today.